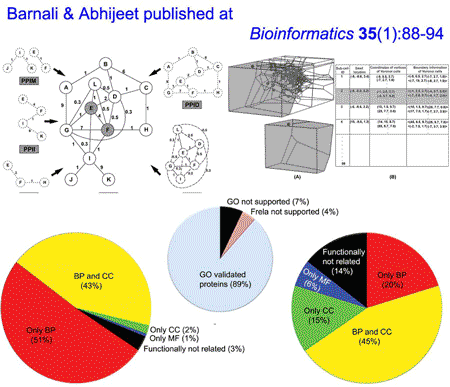 Research
We are interested in realizing the biological phenomenon through computational and experimental techniques. The focus is on developing new algorithms and tools for biological and clinical investigators. Some of our broad research areas include:
Artificial Intelligence-based Approach to Investigate Cancer Progression
Despite the knowledge that the development and progression of cancer happen due to the perturbations in the gene regulatory network, at the molecular level, the factors responsible for the transcriptional perturbations remain a fundamental challenge for cancer biology. Modeling the properties and functions of gene sequences is an essential but challenging task in the broad field of genomics. We wish to develop deep learning-based computational framework that could analyze the available information from TCGA in identifying the functional effects of noncoding variants in human genetics.
Designing High-throughput Technique for Drug Discovery
Genomic modifications often result in altered protein signatures giving rise to new protein‐protein interactions (PPIs) and rewiring in the human interactome. The modifications alter the delicate balance between life and death signals and promote the acquisition of cancer hallmarks in affected cells. We wish to develop a high-throughput pre-drug screening machine intelligence technique to suggest probable drug molecules. First, we will aim to identify the drug molecules for Glioblastoma. In the future, our framework can be extended to design drugs for other diseases.
Computational Protein Engineering
Protein backbone alternation due to insertion/deletion/mutation operation often results in a change of fundamental biophysical properties of proteins. We are actively engaged in developing machine-learning-based frameworks to encode the protein stability changes associated with single-point/multi-point deletions or mutations of amino acids in proteins. The encoding will help in the primary screening of detrimental backbone modifications before opting for expensive in vitro experimentations and hence find huge applications in protein engineering endeavors for a better understanding of different disease conditions.
Biomarker discovery
Breast cancer is the second most common cancer in women worldwide. In the case of late-stage diagnoses, breast malignant cells already spread to other organs, and thus reduce the survival rate. We aim to identify novel chemoresistance and metastasis biomarkers for breast cancer utilizing computational analysis. In collaboration with our experimental partners in academia and hospitals, we wish to verify our computational design that can be used in clinical practice to improve breast cancer detection and treatment.
Join Us
We are looking for motivated Ph.D. students and B.Tech./M.Tech. final year students interested to contribute to the improvement of human life by designing novel techniques in understanding disease progression, novel biomarker design, or drug discovery.